Tool Repair, Rekeying and Delivery
Our team of designers are ready to help you with your next build or remodel. Our design services include kitchens and baths, decks, closets, home remodeling, and even whole house design. Home building and remodeling projects often start with inspiration and we can guide you through from vision to delivery. Choose us as a design partner for a refresh project or use us as an extension of your building team to create plans and takeoffs for all of your projects.
Our team is available for consultations at our product showrooms including Allenton, Cedarburg, Franklin, and Watertown. Meet our team of talented designers below and call today to set up a consultation for your design project.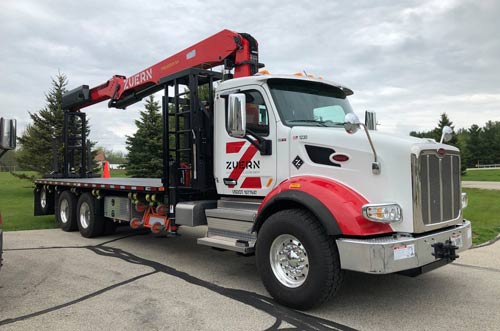 Need materials delivered to the roof or a tough to reach spot? Our boom trucks will be the most efficient delivery option for your job site.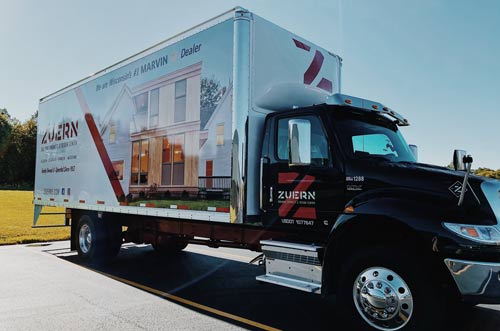 With a box truck, your products will be safe and secure and out of the weather. These trucks are used for products like cabinets and window and doors.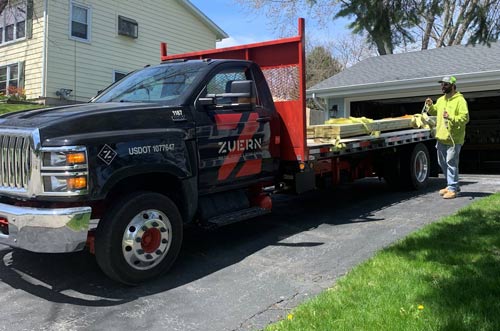 Our flatbeds are great for stacked lumber or boxed products. Most of our flatbeds are equipped with a piggyback forklift for easy unloading.
Warehouse and Distribution
Logistics to Keep Your Business Running
After moving into our new distribution center in 2020, Zuern consolidated much of our warehousing operations at our Slinger headquarters. It enabled us to expand our stocking solutions and implement advanced inventory management to help our customers with the best building materials service in the area including our Watertown, Allenton, Cedarburg, and Franklin locations.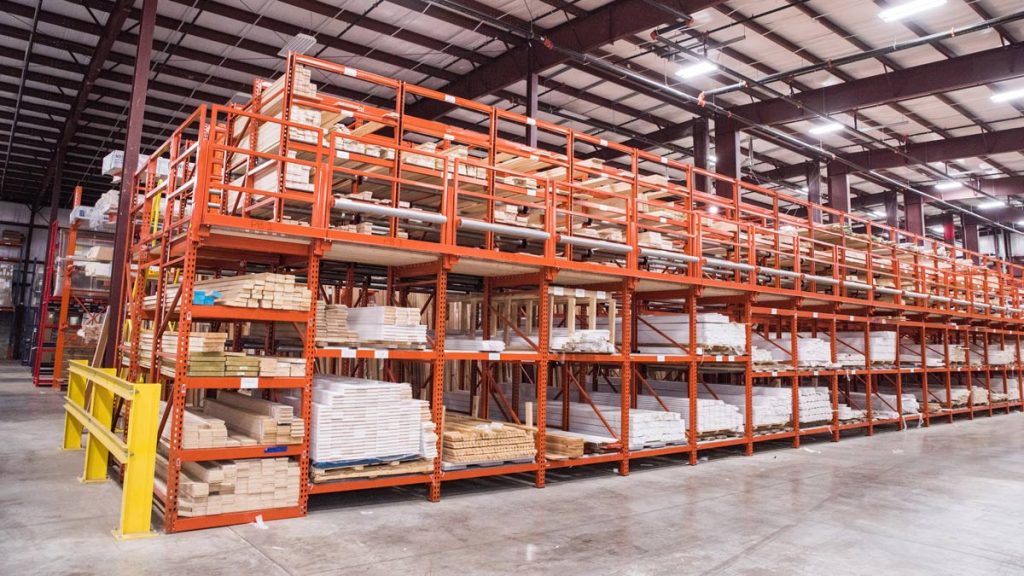 Zuern Building Products offers tool repair for all major brands of popular pneumatic nailers, impulse tools, and electric tools. We have an extensive parts inventory, as well as stock for new products.
We repair Senco, Bostitch, and Hitachi tools. We are an authorized Senco Fusion Tool Repair company, and we also replace screw systems on Senco Nailers. We also repair impulse tools, Milwaukee Tools, and air compressors, as well as push lock hose assembly.
Our tool repair service includes:
Fast, efficient repair order processing.
Quick turnaround so you'll be up and running in no time.
Pre-set tune-up price for many tools.
If your tools are in need of servicing, stop by one of our showroom locations to drop off your tools.
We offer lock rekeying services to contractors and property owners.
Rekeying – Have a copy of the key made.
Masterkeying – Have a key made that will open multiple locks.
Construction Keying – Have a keys made to fit construction locks.
Key to Pass – Have a key that will open exterior doors as well as tenant doors.
Send us a message, call us, or stop by one of our showrooms to discuss your keying needs and how we might be able to help you out.